'Solmarket 2018', a gastronomic and family leisure festival starts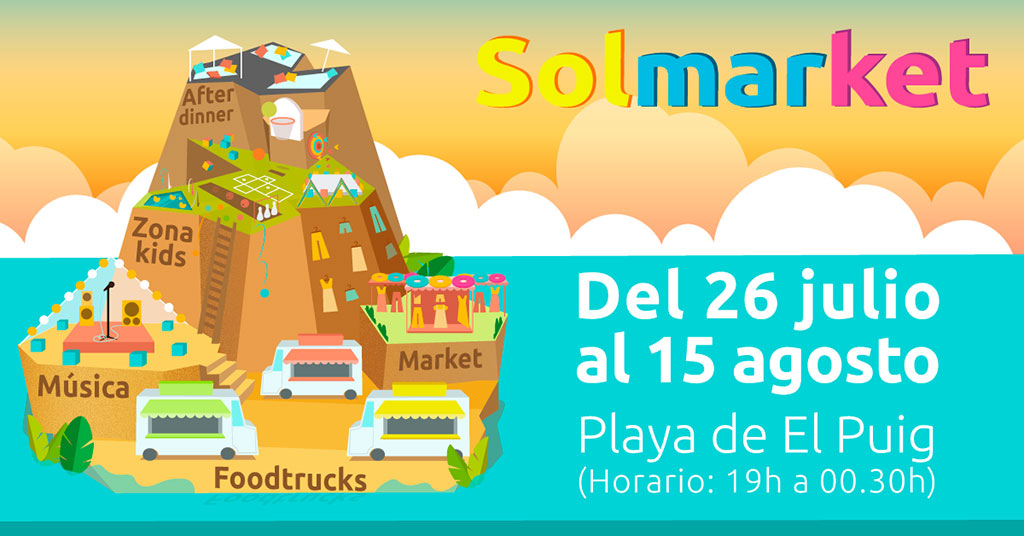 By @solmarketelplandelverano
For 21 days, from July 26 to August 15, this unique family event will take place combining leisure, commerce, gastronomy, art and music.
Solmarket Festival 2018, is located a few meters from the sea, on the beach of El Puig, very close to Valencia, in an area of ​​7,500 m2 and with 12,000 m2 of parking.
Free admission and for all ages, from seven in the afternoon to twelve thirty in the night, visitors can enjoy an extensive programming that highlights more than 30 live shows and concerts, more than 20 food tracks, more than 75 exhibitors and a large number of activities for children.
The live music concerts will be every day and will be in charge of Valencian groups that will interpret different musical styles.
In the craft market will have dozens of peddlers where you can find decoration, fabrics, clothing, jewelry and other handmade items.
The food trucks area will have a cocktails area and more than 20 vehicles converted into rolling kitchens that will offer the best of national and international gourmet gastronomy.
The children's area, of 650 m2, will feature children's entertainment and workshops of crafts, paint faces, traditional games and pools of fishing games. In addition dinners with animated characters for children will be organized.